roofing
Your Roof
Is Our Priority
Installations, replacements, repairs... you name it we do it!
When it comes to taking care of your roof, trust the team at Thomas Roofing Company with the decades of experience and knowledge to put your mind at ease with roofing services that are designed to work within your unique needs.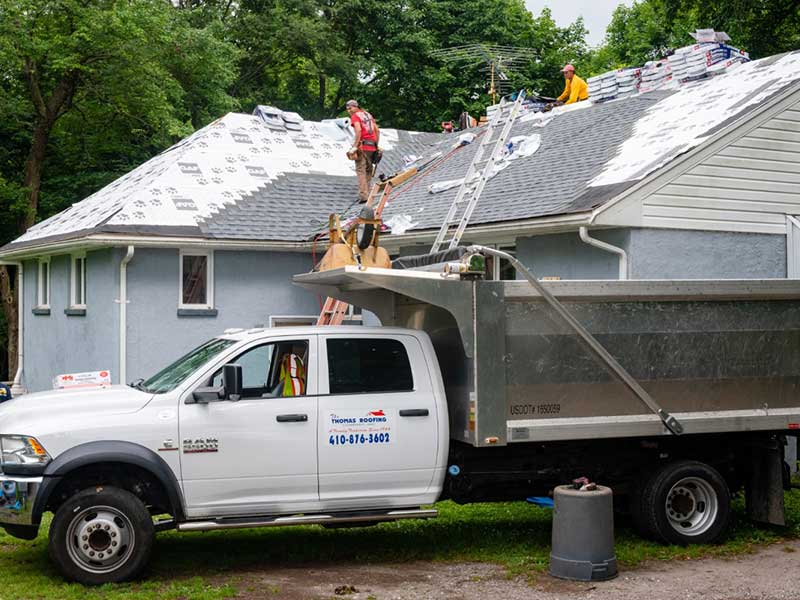 hardware

Roof

Installations

---

A roof installed by Thomas Roofing Company is backed by great warranties, attention to detail, quality craftsmanship, and is guaranteed to last and protect your home from the elements for years to come.

autorenew

Roof

Replacements

---

When it's time to refresh the strength and look of your roof, we'll gladly replace your entire roof system. In fact, roof replacements increase the curb appeal of your home as well as it's market value.

---

A roof sustaining damage is unavoidable, but when the time comes to repair small leaks or large holes on your roof, trust the team with the experience to fix any type damage in a quick and timely manner.
Asphalt Shingle

Brands We Use

Asphalt shingles are by far the most popular material that homeowners use on their roofs. They are generally more affordable, durable, and offer a beautiful look to any home.
GAF Shingles
Metal Roofing

Brands We Use

While generally more expensive than asphalt shingles, metal roofs tend to last longer and require little to maintenance. Plus, they offer a sleek look to any residential or commercial property.
Drexel Metals
Attention Active Military, Veterans, and Retirees
Thank you for defending our freedom!
GAF, a U.S.-based corporation, is giving back to our troops.
U.S. Military Troops get a $250 Rebate when they install a GAF roofing system on their home and purchase an Enhanced Warranty.